Transforming Your Backyard Into An Outdoor Oasis
Ever dreamt of hosting summer barbecues on a brand-new deck?
Or perhaps you've imagined enjoying a quiet morning coffee in your own outdoor living space?
If you're nodding along, you're not alone.
Many homeowners in Alpharetta, Georgia, share these dreams.
But how much does it cost to turn these dreams into reality? And what does the process of premium deck installation involve?
In this comprehensive guide, we'll walk you through everything you need to know about hiring a premium deck-building contractor in Alpharetta, GA.
From the average premium deck prices to the expert craftsmanship and use of premium materials to the ongoing communication and service follow-ups, we'll reveal what you can expect when you hire a premium deck-building contractor in Alpharetta, Georgia.
By the end of this post, you'll be well-equipped with the knowledge to make informed decisions about your custom deck-building project.
So, are you ready to transform your backyard into your personal outdoor oasis?
Let's dive in!
The Cost of Premium Deck Installation
When planning to build a deck, one of the first questions that come to mind is, "How much will it cost?"
The answer, however, is more complex than one might hope.
The cost of premium deck installation can vary significantly based on several factors.
Factors Affecting the Cost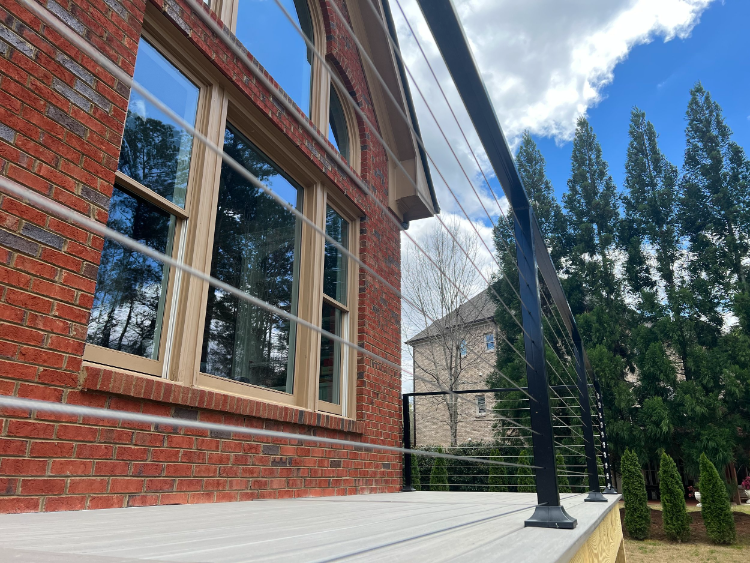 The cost of building a premium deck isn't a flat rate; it's influenced by various elements, including:

Size of the Deck: As you might expect, a larger deck will require more materials and labor, thus increasing the cost.
Materials Used: The type of deck materials you choose for your deck can significantly impact the overall cost. Options range from natural wood to composite materials, each with its own price point. Some premium decks also utilize a steel infrastructure for superior support.
Design Complexity: A simple, rectangular deck will cost less than a deck with multiple levels or intricate designs. Here at Story Custom Decks, we offer a bespoke deck design service that includes a 3-D rendering of the design and the ability for you to make revisions before construction begins.
While all the factors above can impact your final cost, it should be noted that your primary concern (and the primary concern of your premium deck builder) should be about creating an outdoor living space that allows you to live your dream lifestyle.
In other words, when it comes to premium deck installations, the most important consideration is your peace of mind throughout the process and your total satisfaction with the finished product.
Premium Deck Cost of Installation
On average, the cost to build a premium deck ranges from $50,000 to $150,000+.
Keep in mind that this cost range is a rough estimate.
Your final cost may change depending on your deck size, overall needs, and any extra features you'd like your deck design to have.
We will provide an exact quote after the on-site assessment.
As a premium custom deck builder, Story Custom Decks is proud to offer three tiers of deck construction:
Select Deck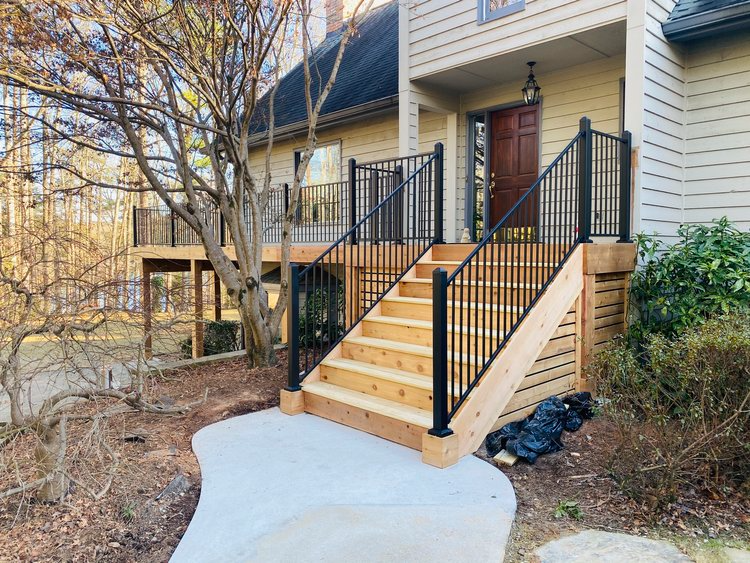 This level of deck starts at $50k and is typically completed in 3-4 weeks, weather permitting. A Select deck includes:
Your Choice of Decking
Frame
Concrete Footers
Posts
Railings
Small Staircase
Enhanced Deck
Our Enhanced deck starts at $100k and is usually complete in 6-7 weeks. An Enhanced deck includes:
Your Choice of Decking
Wood or Light Gauge Steel Frame
Concrete Footers
PVC Wrapped Posts
Railings
Staircase
Covered Area Or Screen Porch
Tongue And Groove Ceiling
Fans
Infrared Heaters
Lighting
Electrical
Premier Deck
The Premier deck is our top-of-the-line deck option. It starts at $150k and is complete in 8-9 weeks. The Premier deck includes:
Composite/PVC Decking
Structural Steel Beams And Columns
Concrete Footers
PVC Wrapped Posts
Metal Railings
Covered Area Or Screen Porch
Tongue And Groove Ceiling
Under Decking
Fans
Heater
Lighting
Electrical
Now that you have a good idea of what to expect when it comes to the cost of installing a premium deck let's take a closer look at what separates a premium deck builder and a run-of-the-mill standard deck builder.

What's The Difference Between A Premium Deck-Building Contractor And A Standard Deck-Building Contractor?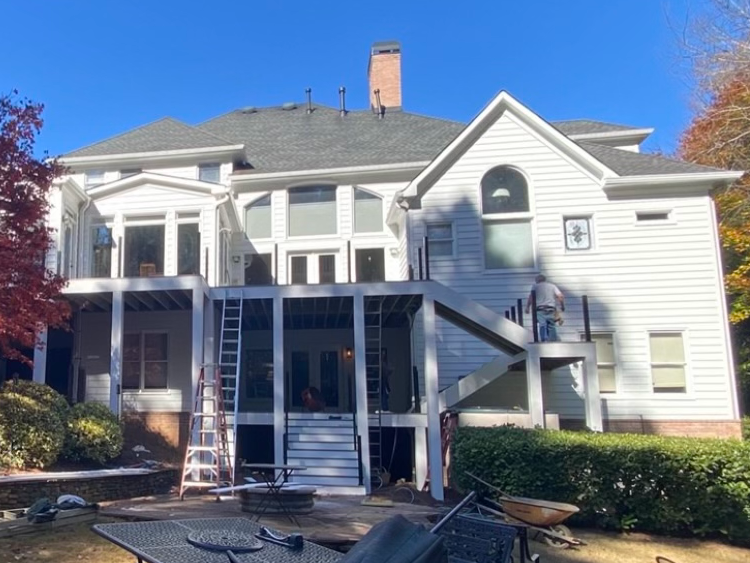 When it comes to deck building, not all contractors are created equal.
The difference between a premium deck building contractor and a standard one can be significant, impacting the quality, durability, and overall satisfaction with your new deck.
Let's explore some of the key differences:
Collaboration with the Homeowner
A premium deck building contractor like Story Custom Decks in Alpharetta, Georgia, understands that every family is unique, with different visions and needs for their outdoor space.
We take the time to listen and fully understand your vision before we get to work.
This collaborative approach ensures the final product is a custom space that truly reflects your vision and meets your needs perfectly.
This approach is very different from the approach that many standard deck-building contractors take.
Many standard deck builders take a "cookie-cutter" approach to deck building that prioritizes speed over quality and affordability over customization.
Premium Materials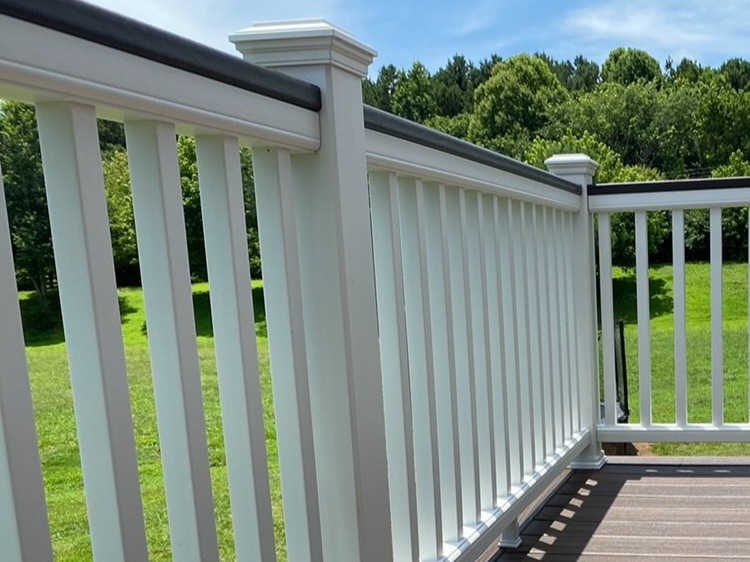 The quality of materials used in your deck construction plays a crucial role in its durability and aesthetics.
Story Custom Decks prioritizes superior outdoor living spaces that will last for years to come.
We consistently build to a higher standard than what permitting requires, working exclusively with framing materials and decking products we trust and stand behind, like TimberTech Composite and TimberTech Advanced PVC products.
Transparent, Reliable Communication
Story Custom Decks believes in transparent communication, and we work closely with our clients to surpass their expectations.
We keep you informed and involved with weekly check-ins and provide ongoing support every step of the way.
This level of communication is a hallmark of a premium deck-building contractor and can significantly enhance your experience throughout the deck-building process.
Risk-Free Experience
With Story Custom Decks, your investment is secure.
Our premium TimberTech decking comes with a 25-year manufacturer's warranty, which covers staining, fading, and material defects. (Note: Manufacturer warranty coverage for other decking materials varies depending on the product.)
Additionally, we also offer a 12-month warranty on our labor and craftsmanship, providing you with a risk-free experience and peace of mind that your investment is protected.
Finally, we follow up with our customers after 2 weeks to ensure they are still loving their deck and are completely satisfied. We check in again via email after 2 months, 6 months, and 12 months just to make sure you are still happy with your custom premium deck.
So while a standard deck-building contractor can get the job done, a premium deck-building contractor like Story Custom Decks brings a lot more to the table.
From collaboration and premium materials to transparent communication and a risk-free experience, the benefits of working with a premium contractor are clear.
So, when you're ready to build your dream deck in Alpharetta, Georgia, consider the premium difference.
Now let's take a closer look at how different deck materials can impact the cost of your premium deck.
Deck Material Costs
The material you choose for your deck is one of the most significant cost factors.
Let's take a look at some of the most popular deck materials and their relative costs:
Natural Wood
Natural wood is a classic choice for decks, offering a warm, timeless aesthetic.
The cost of wood for decks can vary based on the type and grade of wood used but is typically less costly than composite materials.
Composite Decking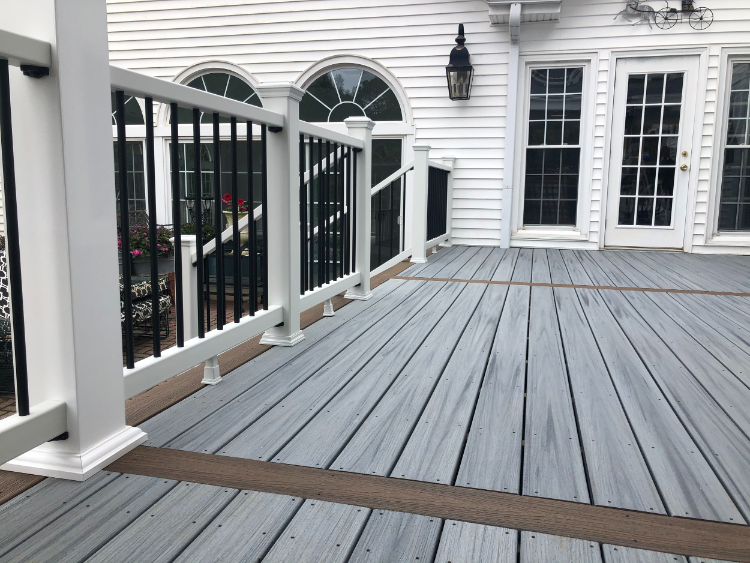 Composite decking is a more modern option, made from a mix of wood fibers and recycled plastics.
Composite decking is long-lasting and virtually maintenance-free, but it's also more expensive.
Here at Story Custom Decks, we are proud to offer premium composite decking as well as durable PVC decking.

Labor Costs
The labor cost for deck installation will vary based on the complexity of the project and the rates of the premium deck builders in your area.
Just remember to compare apples to apples if you are comparing two different premium deck builders.
Some premium deck builders may offer a lower price, but their workmanship and materials may be of a lower quality than a higher-priced contractor.

Additional Costs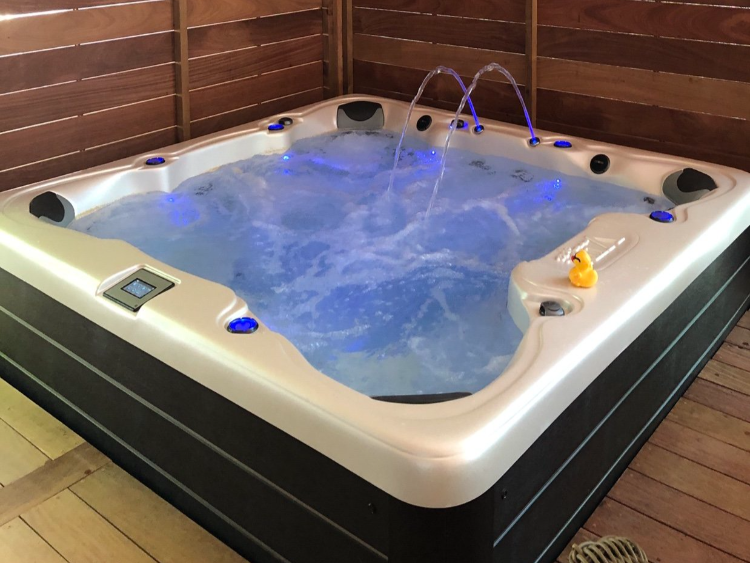 In addition to the cost of materials and labor, there are several additional costs you might need to consider when planning your deck installation project:
Permits: The city of Alpharetta requires a building permit for deck construction. Here at Story Custom Decks, we will pull any necessary permits for your project.
Demolition and Removal: If you're replacing an old deck, you'll also need to factor in the cost of demolition and removal. Consult with your premium deck builder to get an accurate quote for how much it will cost to remove your old deck.
Extras: If you're planning to add extras like built-in seating, a pergola, or a fireplace, these will also add to the overall cost of the project.
Here at Story Custom Decks, we are proud to offer multiple upgrades to your deck, including:
Outdoor Kitchen
Fireplace
TV and Sound Systems
Pergolas
Seating
Under Decking
Heaters
Hot Tub or Spa
Masonry (Concrete Pavers/Flagstone)
Planters
Motorized Awnings
Retractable Screens
Landscaping and Garden Features
The individual cost of these upgrades will vary based on the specifications of your premium custom deck project.
Deck Styles and Types
The style and type of deck you choose can also affect the cost of your project.
Here are a few popular options:
Platform Deck
A platform deck, or patio deck, is the most basic type of deck.
It's typically built at ground level and doesn't require railings or stairs, making it one of the least costly options.
Multi-Level Deck
A multi-level deck consists of two or more decks at different levels, connected by stairs or walkways.
This type of deck is more complex to build and, therefore, more expensive, but it can add a lot of interest and functionality to your outdoor space.
As premium deck builders, Story Custom Decks specializes in multi-level decks with intricate design elements.
Raised Deck
A raised deck is elevated off the ground and typically requires railings and stairs for safety.
The cost of a raised deck can vary greatly depending on the height and complexity of the design.
Remember, a premium deck-building contractor like Story Custom Decks will help you select the best deck style and type for your situation.
In some cases, a premium custom deck design will include a combination of all types!
The most crucial consideration is that the deck fulfills your vision for your dream outdoor space and fulfills your lifestyle needs.
Factors That Affect Deck Building Costs
When planning your premium deck installation, it's important to understand the various factors that can affect the cost.
Here are some key considerations:
Square Footage: The size of your deck will directly impact the cost. More square footage means more materials and more labor.
Elevation: The height of your deck off the ground can also affect the cost. Higher decks require more materials for support and often need railings and stairs for safety.
Design Extras: Adding features like built-in seating, a hot tub, or a fireplace can increase the cost of your deck. However, these features can also increase the functionality and appeal of your outdoor space.
Benefits of Building a Deck
Building a deck is not just about cost; it's also about the value and enjoyment it can add to your home.
Here are some of the benefits:
Increased Home Value: A well-built deck can increase the value of your home, making it a good investment if you plan to sell in the future.
Expanded Living Space: A deck provides additional outdoor living space for dining, entertaining, or simply relaxing.
Aesthetic Appeal: A beautiful deck can enhance the look of your home and yard, adding to its curb appeal.
How Do You Choose a Premium Deck Builder?
Choosing the right premium deck builder is crucial to ensuring your deck is built to last and meets your expectations.
Here are some tips to help you make the right choice when it comes to deck-building contractors:
Check References and Reviews: Look at online reviews and ask for references from previous clients. This can give you a good idea of the builder's quality of work and customer service.
Verify Licenses and Credentials: Make sure the builder is licensed and insured in your state. This protects you in case of any accidents or damage during the construction process. Story Custom Decks is happy to provide you with our Georgia Residential Contractor license number.
Ask About Experience: Find out how long the builder has been in business and what kind of decks they have experience building. Deck builders with a lot of experience will be more likely to handle any challenges that come up during the construction process. Story Custom Decks has been building beautiful decks and custom outdoor living spaces for customers since 2015.
Communication: Good communication is key to a successful project. Make sure the deck builders are easy to reach, answer your questions clearly, and keep you updated on the progress of the project. Story Custom Decks takes a collaborative approach to the deck-building process, and we pride ourselves on our transparency and open communication with the client.
Ready To Build Your Dream Deck in Alpharetta, GA?
Building a deck is a significant investment, but with careful planning and the right premium deck builder, it can be a rewarding project that adds value and enjoyment to your home.
Whether you're dreaming of a simple platform deck or a multi-level outdoor oasis, understanding the costs involved can help you plan your project and make informed decisions.
At Story Custom Decks, we're committed to helping you create the deck of your dreams.
Our experienced deck builders offer top-quality workmanship and customer service, and we're here to guide you through every step of the process, from design to installation.
Ready to transform your backyard into a beautiful outdoor living space?
Fill out our contact form today, or give us a call at (661) 699-7902.
We look forward to helping you make your dream deck a reality!