Decking Installation Dreams in Alpharetta
Ever found yourself daydreaming about hosting a summer barbecue on your own beautifully crafted deck?
Or maybe you've imagined spending a quiet morning sipping coffee and watching the sunrise from the comfort of a cozy deck chair?
If these thoughts resonate with you, then you're in the right place.
This blog post will guide you through the ins and outs of premium custom deck building costs in Alpharetta, GA.
By the end, you'll have a clear understanding of what it takes to turn your decking installation dreams into reality and the benefits you'll reap from this worthwhile investment.
Average Cost To Install A Premium Deck in Alpharetta, GA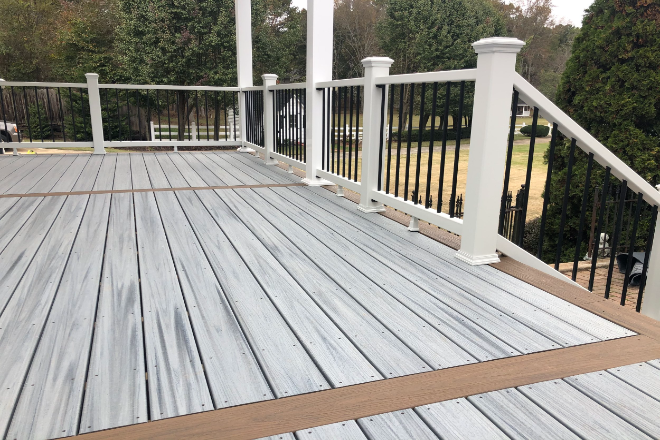 What's The Difference Between A Premium Deck And A Standard Deck?
When it comes to installing a deck, the choice between a premium deck and a standard deck can significantly impact the quality, durability, and overall satisfaction with your outdoor space.
So before we dive into the average cost of building a premium deck, let's take a moment to highlight the differences between a premium decking installation project and your run-of-the-mill standard decking project.
A premium deck, while more costly upfront, offers a host of benefits that make it a worthwhile investment.
A premium deck is a result of a collaborative approach.
At Story Custom Decks, we understand that every homeowner has a unique vision for their outdoor space. Unlike standard deck builders who often take a "cookie-cutter" approach, we prioritize understanding your vision and needs, ensuring the final product is a custom space that truly reflects your desires.
The quality of materials used in a premium deck construction plays a crucial role in its durability and aesthetics.
We work exclusively with high-quality materials like TimberTech Composite and TimberTech Advanced PVC products, ensuring your deck will last for years to come.
A premium deck-building contractor offers transparent communication throughout the deck-building process.
Here at Story Custom Decks, we keep you informed and involved with weekly check-ins, providing ongoing support every step of the way.
A premium deck comes with a risk-free experience.
Our premium TimberTech decking material comes with a 25-year manufacturer's warranty, and we also offer a 12-month warranty on our labor and craftsmanship. This gives you peace of mind that your investment is protected.
In conclusion, while a standard deck can get the job done, a premium deck offers a superior experience in terms of customization, quality, communication, and warranty protection.
This is the value Story Custom Decks offers its customers and why the average cost to build a premium deck in Alpharetta, Georgia, ranges from $50,000 to $150,000+.
When you're ready to build your dream deck in Alpharetta, Georgia, consider the premium difference!
Factors Influencing Deck Installation Cost
When it comes to installing a premium deck, several factors can influence the overall cost.
Understanding these factors will help you plan your budget effectively and make informed decisions throughout your decking installation project.
Size of the Deck
The size of your deck is a significant factor that affects the cost.
A larger deck requires more materials and labor, which will increase the overall cost.
Whether you're thinking of a small, intimate space for family gatherings or a large, sprawling platform for big parties, the size of your deck will significantly impact your budget.
Materials Used
From classic wood decking to modern composite materials, the choice of decking installation material can greatly influence the cost.
Each material has its own price point, durability, maintenance requirements, and aesthetic appeal.
We'll delve deeper into the cost breakdown by decking material options in the next section.
Labor Costs
Unless you're planning a DIY project, labor costs will form a significant portion of your deck installation budget.
The complexity of the project, the experience of the contractor, and the local labor rates in Alpharetta, GA, all contribute to the labor costs.
Extras and Add-ons
Want to add a hot tub, a pergola, or a sound system to your deck?
Extras and add-ons can personalize your deck but will add to the overall cost.
It's important to factor these into your budget if you're planning to include them.
Stay tuned for the next section, where we'll break down the cost by material, helping you understand the pros and cons of each option.
Cost Breakdown by Material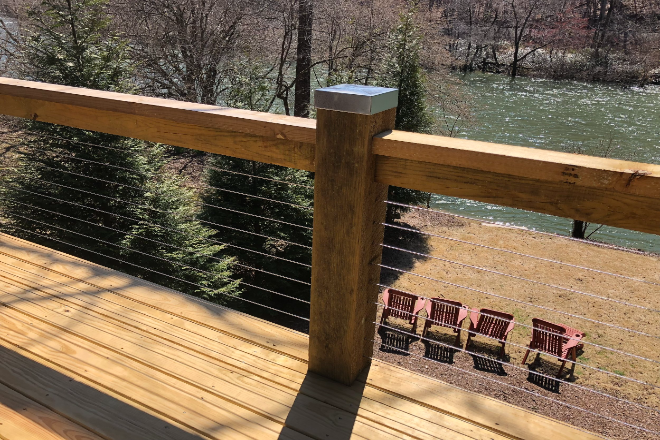 When it comes to decking installation materials, you have several options, each with its own set of advantages, aesthetics, and costs.
Let's take a closer look at the most popular choices for homeowners in Alpharetta, GA: wood decking and composite decking.
When it comes to wood decking, you have two primary types of decking to pick from–pressure-treated wood and natural wood.
Pressure-Treated Wood
Pressure-treated wood is a popular choice for decks due to its durability and affordability.
This type of wood is treated with chemicals to resist rot, decay, and termites, making it a long-lasting option.
However, it requires regular maintenance, including staining and sealing, to prevent weather damage.
Pressure-treated wood is typically the least expensive decking option, although its cost per square foot can vary depending on the type and grade of wood.
However, it is typically less costly than composite materials.
Natural Wood
Natural wood decks made from wood like cedar or redwood offer a classic and beautiful look.
These woods have a natural resistance to decay and pests, but like pressure-treated wood, they require regular maintenance to keep them looking their best.
The cost of natural wood decks can vary greatly depending on the type of wood used.
However, it is typically more expensive than standard pressure-treated deck boards.
The best way to get an accurate materials cost for natural wood is to check with your local lumber supplier or decking installation contractor.
Composite Decking
Composite decking material, made from a mix of wood fibers and plastics, is a durable and low-maintenance alternative to wood.
It's resistant to rot, decay, and pests, and it doesn't require staining or sealing.
However, it's more expensive than pressure-treated deck boards.
On the other hand, some types of natural wood can be costlier than composite deck boards.
The cost of composite decking will depend on the specific manufacturer and product you select for your decking installation project.
Story Custom Decks is proud to use high-quality TimberTech composite decking for all our premium composite decking installation projects.
These eco-friendly deck boards are composed of about 85% recycled material and are covered by product warranties that last up to 30 years.
Cost Breakdown by Size
The size of your deck is another major factor in the overall cost.
Larger decks require more materials and labor, increasing the overall cost.
However, since the final cost of a premium deck depends primarily on the deck materials, upgrades, and customized features you select, it is difficult to provide even a rough estimate based solely on the size of the deck.
That being said, most premium decks will cost between $50,000 and $150,000+, regardless of size.
If your deck is smaller, you can expect it to cost closer to $50,000. Similarly, a larger-than-average premium deck will cost closer to $150,000.
These estimates include the cost of materials and labor.
Keep in mind that these are just estimates, and the actual cost can vary based on the materials used, the complexity of the design, and other factors.
Cost of Extras and Add-ons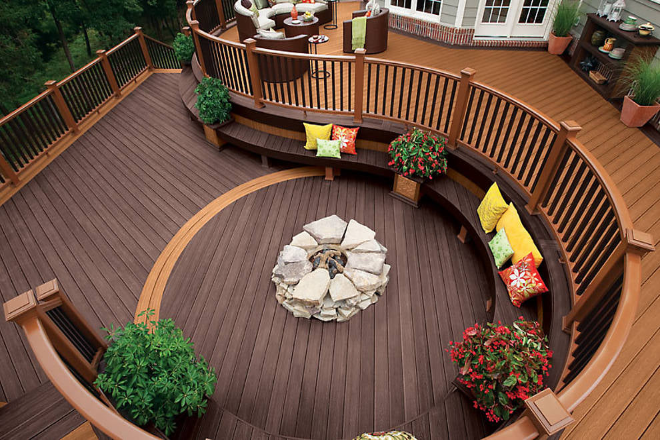 Extras and add-ons can enhance the functionality and aesthetics of your deck, but they also add to the cost.
Here are some common extras that people choose for their premium decking installation projects in Alpharetta, GA:
Outdoor Kitchen
Fireplace
TV and Sound Systems
Pergolas
Built-in Seating
Under Decking
Heaters
Hot Tub or Spa
Masonry (Concrete Pavers/Flagstone)
Planters
Motorized awnings
Retractable Screens
Landscaping and Garden Features
Please keep in mind that the cost of these add-ons will vary based on the specific design of the custom deck you have built.
The actual cost will also vary based on the materials used and local labor rates of the premium decking installation company you hire in Alpharetta, GA.
Making the Right Choice for Your Deck in Alpharetta, GA
Now that we've broken down the various factors that influence the cost of installing a premium deck, you're well-equipped to make an informed decision.
But beyond the numbers, it's important to consider the value that a deck adds to your home and your lifestyle.
A well-designed and well-built deck not only enhances the aesthetic appeal of your home but also provides a functional outdoor space for relaxation and entertainment.
It can be the perfect place for family gatherings, summer barbecues, or simply enjoying a quiet evening under the stars.
While the upfront cost of building a premium deck can be significant, it's also an investment in your home.
A premium deck can increase the resale value of your property and make it more attractive to potential buyers.
Moreover, the enjoyment you and your family get from a beautiful outdoor space is priceless.
When planning your deck project, consider working with a premium deck builder, like the professionals at Story Custom Decks.
Premium decking installation companies can provide valuable advice on the design and materials that best suit your home, lifestyle, and budget.
They can also ensure that the deck is built to code and has the building permits required by the city of Alpharetta.
Story Custom Decks: Your Partner in Premium Deck Installation
At Story Custom Decks, we understand that a deck is more than just an addition to your home.
It's a place where memories are made, where friends and family gather, and where you can enjoy the beauty of the outdoors in comfort and style.
Our team of experienced professionals is committed to delivering high-quality workmanship and exceptional customer service.
We work closely with you to design and build a deck that meets your needs and exceeds your expectations.
Whether you're considering a simple platform deck or a large, multi-level structure with all the extras, we have the skills and expertise to bring your vision to life.
We understand that a deck is only as good as its usability for the family it was built for.
This is why we also offer a premium deck design service that provides clients with a 3D rendering of their deck design and an opportunity to revise the design to fit their needs and lifestyle perfectly.
Additionally, we use only the highest quality deck materials and adhere to the highest standards of craftsmanship, ensuring that your new deck is not only beautiful but also durable and long-lasting.
Ready to start your deck project in Alpharetta, GA?
Fill out our contact form today, or call (661) 699-7902.
We look forward to helping you create the deck of your dreams!